AVAILABLE FUNDS
The New Braunfels Community Foundation giving options include several types of charitable funds. As a donor, you can contribute to an already-existing fund that aligns with your intent and charitable goals, as well as with your personal financial situation.
Make A difference
Former Board Members
A select group of former NBCF board members, business and civic leaders, financial advisors, and friends of NBCF who care deeply about the community and promoting charitable giving in perpetuity continue to provide their expertise to NBCF moving forward. Thank you to these members who provide mentorship, guidance, new idea and insights into the changing world of philanthropic giving.
Members are invited to NBCF events throughout the year and receive NBCF newsletters, updates and board minutes. There is no time commitment requirement.
NBCF is grateful for the knowledge, expertise and advice this independent group of civic and community leaders provide to our organization and community. They are known for their commitment to providing leadership on local community needs and issues:
Jeff Albrecht
Marian Benson
Carter Casteel
Mary Jane Nalley
David Pfeuffer
Doug Toney
Roger Tuttle
Pat Wiggins
Mike Ybarra
Volunteer Scholarship Evaluators
Volunteer scholarship evaluators are able to evaluate, score and submit reviews online via a scholarship management program, at their discretion, within the given deadline. Volunteers conduct evaluations at their leisure, anywhere they have a computer.
If you have a background in education or scholarship application reviews and are interested in serving as an evaluator, we would love to hear from you. Submit your form HERE. The completed questionnaire will then be submitted to the NBCF Board of Directors for approval.
Legacy Society
The New Braunfels Community Foundation established the Legacy Society to recognize individuals and couples who have made provisions in their estate plans to provide a gift to NBCF for the benefit of the community. These gifts take the form of bequests by naming NBCF not only in a will or trust, but also in a charitable remainder trust, gifts of life insurance, or any other type of charitable planned gift.
Who should join the Legacy Society?
For people who want to create a legacy beyond their lifetime, the Legacy Society ensures donors that their charitable dollars are used in the way they intended. If you have made arrangements in your will, trust or other deferred gift mechanism to make a gift to NBCF, you are already eligible to be a member of the Legacy Society.
Legacy Society members:
Are recognized in publications and on the foundation website;
Are honored at foundation events;
Receive the Limited Edition "Generations" sculpture by Paul Tadlock; and Assist in building a community asset that gives back in perpetuity.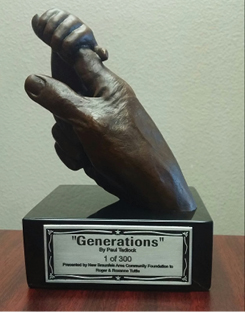 Current members of the NBCF Legacy Society include:
Gary and Pam Barr
Dr. James C. Curry
Brit and Nanette King
Larry and Donna Lehr
Jeff Lindley
Penny Potter
Mike Poston
Alan and Suzanne Stahlman
Caroline Storey
Wes and Tina Studdard
Roger and Roxanne Tuttle
How does the Legacy Society work?
Establish – Donors can include a gift to New Braunfels Community Foundation in their will or trust; establishing a bequest.
Notify – Donors notify New Braunfels Community Foundation of their plans and automatically become members of the Legacy Society.
Join – Donors join the network of other Legacy Society members and receive special recognition.
Please contact our office at 830-606-9536 to discuss the various planned giving options available to you or learn more HERE. Join the Legacy Society HERE.

NB WOMEN GO
NB Women GO (Giving Organization) is a group of women in the greater New Braunfels area who are making a difference in the lives of others by giving back in their community.
Members of NB Women GO, a women's giving organization with New Braunfels Community Foundation, support their community by paying an annual membership. Members pool their donations and give back to nonprofits on an annual basis.
Any woman interested in helping to do good in Comal County can become a member of NB Women GO. Each year, NB Women GO members vote and select which nonprofit organizations will receive grants.
There are no fancy galas and no huge time commitments – just the opportunity to make a difference in your community, learn more about our local nonprofits, and have fun with your friends.
Join Us HERE.
Questions? Contact us at (830) 606-9536 or betty@nbcommunityfoundation.org.